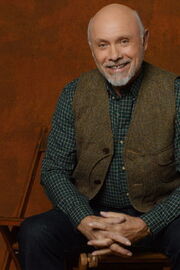 Hector Elizondo
 as Edward "Ed" Alzate, A boss, a friend and an eccentric gentleman, and is also Mike's boss.
He is in his 90's. Mike usually talks to Ed about the happenings in his home, seeking advice. Ed is known to be unorthodox and is a source of both pride and consternation for Mike, as the advice he gives sometimes helps yet also often hinders Mike.
Like Kyle, Ed is of Basque heritage. He is engaged to Wendy Grayson, who was pregnant with his child. he has had 3 wives. Thick-skinned, opinionated, owner of Outdoor Man he wrote the book on how to live a man's life. With his years of experience, Ed helps Mike with problems at work as well as at home and while sometimes not being the brightest advice, he is an essential role model in Mike's life.
Community content is available under
CC-BY-SA
unless otherwise noted.