Kyle Anderson is one of the main characters in Last Man Standing. He is portrayed by American actor Christopher "Christoph" Sanders.
Kyle Anderson is the husband of Mandy Baxter-Anderson since the episode Bridezilla vs. The Baxters in Season 6 where they are shown getting married. Kyle is not the smartest character, but definitely one of the nicest. He really looks up to Mike (who he calls Mr. B), and Ed.
Season 1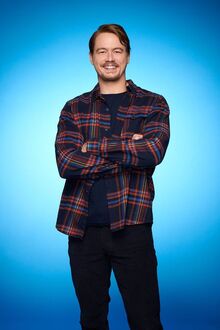 Kyle is the new hire at Outdoor Man in the Pilot episode. When Mike Baxter is talking about his daughter, Mandy Baxter, and how she needs a different boyfriend. However, when Kyle goes to the Baxter house Kristin Baxter opens the door and he believes that she is Mandy. They go out on a date, and they wind up dating for the whole entire first season. They break up in the episode Found Money.
Season 3
Kyle remains dating Mike Baxter's middle child Mandy Baxter. Kyle receives a promotion by Mike Baxter and becomes a sales floor coordinator.
Season 5
Season 6
Kyle and Mandy Baxter get married with Ed Alzate being his best man. Originally, they were going to get married at their church but they got married at Outdoor Man when Mandy went to apologize to Ed on how she was acting.
Season 7
Season 8
Kyle and Mandy reveal to Mike and Vanessa separately that Mandy is pregnant in the episode Extrasensory Deception.